←

All Posts
LinkedIn Prospecting: A Complete Guide & Best Practices (2023)
Sending canned sales messages on LinkedIn? Yeah, we've all been there.
And let's be honest - it feels icky and rarely works.
This guide will walk you through some tips to master relationship-focused prospecting on LinkedIn. You'll learn how to craft engaging messages, provide value, and deepen bonds over time.
The goal here isn't just to pitch your services or make a quick sale. It's to foster genuine connections that spark ongoing conversations and opportunities.
With the right strategy, LinkedIn can help turn strangers into loyal brand advocates.
What is LinkedIn Prospecting?
The term LinkedIn prospecting refers to the process of identifying, researching, and reaching out to potential leads on LinkedIn. It's a strategic approach used to find key decision-makers and influencers within a specific industry who could benefit from your product or service.
LinkedIn prospecting involves reaching out to these individuals with valuable content, building relationships with them, and eventually turning them into potential customers.
With over 800 million professionals using LinkedIn, it's clear that this platform offers endless opportunities for prospecting and that working on your LinkedIn prospecting strategies can allow you to ramp up your b2b sales and relationships.
How to Get Started?
Launching a LinkedIn prospecting campaign might seem challenging at first, but by taking it step-by-step, the process becomes manageable.
Firstly, clearly define your ideal customer profile (ICP). This involves determining who makes decisions within the company, what their key responsibilities entail, and how your product or service can solve their problems.
Read more about How to Find Prospects on LinkedIn.
Once you have a clear understanding of your ideal customer profile, it's time to dive into LinkedIn's powerful search capabilities.
But how do you stand out from the crowd and capture the attention of your potential prospects?
Also Read: 6 Best Ways to Generate Leads on LinkedIn
5 Things to Know Before You Start Prospecting
1. Know Your Audience
When it comes to LinkedIn prospecting, it's essential to have a well-defined target audience in mind. This means understanding the demographics, interests, and pain points of your ideal customers.
Knowing your prospects well can help you tailor your prospecting efforts to attract the right individuals and curate your sales message to tap into the LinkedIn pulse.
2. Use Advanced Search Filters
LinkedIn Sales Navigator can be a great help in this task, allowing you to filter search results by location, industry, company size, and more. With these filters, you can narrow down your search and find profiles that align with your target audience.
This will allow you to filter through thousands of profiles to find those that exactly match the criterion of your ideal customer.
3. Personalisization is the Key
Once you've identified potential leads, it's important to conduct thorough research on each individual. This includes reviewing their LinkedIn profiles, checking their professional backgrounds, and understanding their current roles and responsibilities.
This information will help you personalize your outreach and establish a connection based on shared interests or experiences.
4. Up your Content Game
When reaching out to potential leads on LinkedIn, it's crucial to provide them with valuable content. This could be in the form of articles, blog posts, or industry insights that are relevant to their interests. By offering something of value, you show your expertise and establish yourself as a trusted resource in their eyes.
5. Go Beyond Sales
Building relationships is a fundamental aspect of LinkedIn prospecting. It's not just about making a sales pitch; it's about cultivating genuine connections with your prospects. Engage with their content, comment on their posts, and share their updates to demonstrate your interest and support. By actively participating in their LinkedIn network, you increase your visibility and strengthen your relationship.
10 Best Practices for LinkedIn Sales Prospecting
There are numerous approaches that one can take to LinkedIn prospecting and in this section, we will explore the top 10 strategies for successful prospecting. Implementing these strategies into your LinkedIn prospecting campaign can significantly enhance your prospecting success.
1. Utilizing Sales Navigator to Max
Sales Navigator is an advanced sales tool that LinkedIn offers for lead generation. It's packed with powerful features that take your LinkedIn prospecting game to the next level. You can use it to track leads, create lead lists, save your favorite leads for later, and receive real-time updates about your saved leads.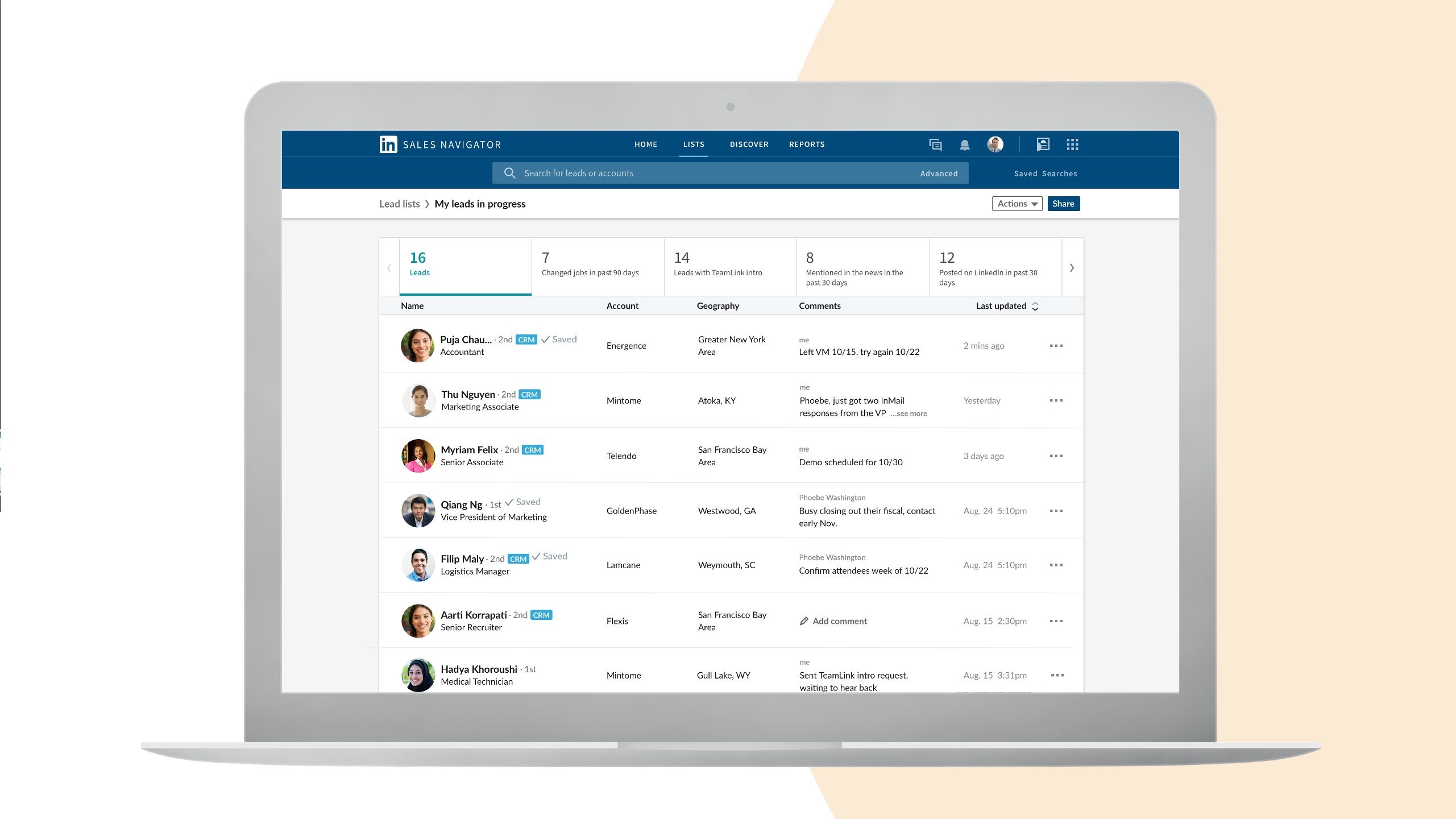 Read: Is LinkedIn Premium Really Worth It?
One of the key strategies for effective LinkedIn prospecting is to optimize your profile. Your LinkedIn profile is essentially your online resume and it's important to make it stand out.
Make sure to include a professional headshot, a compelling headline, and a detailed summary that highlights your expertise and accomplishments.
2. Join LinkedIn Groups
Another part of an effective prospecting process is to join relevant LinkedIn groups. By joining groups that are related to your industry or target audience, you can connect with like-minded professionals and potential prospects.
Engage in discussions, share valuable insights, and establish yourself as a thought leader in your field. Remember that at the end of the day, LinkedIn is a social media.
3. Make Use of LinkedIn's Filters
Another strategy to consider is to leverage LinkedIn's advanced search filters. With these filters, you can narrow down your linkedin search to find prospects who meet specific criteria such as location, industry, job title, and more.
This allows you to target your outreach efforts and connect with linkedin users who are most likely to be interested in your products or services.
4. Nurture Your Connections
Engaging with your connections through meaningful interactions is crucial for successful LinkedIn prospecting. Take the time to comment on their posts, congratulate them on their achievements, and share relevant content that they might find valuable. Building genuine relationships with your connections can lead to fruitful business opportunities.
Your sales team can also send inmail messages to prospects out there where you can talk about their job role, achievements, recent events - the goal here is to make them feel appreciated and noticed.
The biggest mistake a sales rep makes is directly making an offer in first linkedin message. Always avoid that! Remember people buy from people they trust. So, nurturing is very important.
5. Publish Articles & Regularly Update Your Profile
One often overlooked strategy is to utilize LinkedIn's publishing platform. This can attract the attention of potential prospects and position you as a trusted authority.
Additionally, don't forget to regularly update and optimize your LinkedIn profile. Keep your experience and skills up to date, add new accomplishments, and share relevant content.
A well-maintained profile shows that you are actively engaged and committed to your professional growth.
6. Always Personalize While Making a Linkedin Connection
When reaching out to prospects on LinkedIn, personalization is key. Work outside the template. Take the time to research your prospects and tailor your messages to their specific needs and interests.
Generic, copy-paste messages are likely to be ignored.
Show that you have taken the time to understand their challenges and offer a personalized solution.
Also Read: How to Create Effective Sales Messaging
7. Attend LinkedIn Events & Webinars
Attending LinkedIn's industry-specific events and webinars provides an opportunity to network with professionals who have similar interests and goals. These events often attract industry experts, thought leaders, and potential prospects.
By actively engaging in these events, you can establish yourself as a knowledgeable professional in your field and connect with people who may be interested in your products or services.
During these events, take advantage of networking opportunities, such as virtual breakout sessions or Q&A sessions, to introduce yourself and build rapport with attendees. By actively participating and sharing valuable insights or asking thoughtful questions, you can make a positive impression and catch the attention of potential prospects.
8. LinkedIn Ads
You can also consider leveraging LinkedIn's paid advertising options. LinkedIn offers various advertising solutions such as sponsored content, sponsored InMail, and text ads. These advertising options can help you reach a wider audience and increase your visibility among potential prospects.
9. Collaborate & Keep Engaging With Your Audience
Another strategy to consider is to collaborate with influencers in your industry. Identify influential individuals on LinkedIn and reach out to them for potential collaborations. By partnering with influencers, you can tap into their existing audience and expand your reach to a wider network of potential prospects and generate sales leads.
Furthermore, don't forget to monitor and respond to comments on your posts and articles. Engaging with your audience shows that you value their opinions and encourages further interaction.
Responding to comments in a timely and thoughtful manner can help build stronger relationships and foster trust.
10. LinkedIn's Inmail
Another best linkedin outreach method is to leverage LinkedIn's advanced messaging features. With features such as InMail, you can send personalized messages to prospects who are not in your network.
Craft compelling messages that grab their attention and offer value. Personalized and targeted messaging can significantly increase your response rates to LinkedIn cold email,
Combine LinkedIn Prospecting + Cold Email
Here's the playbook: First, shoot prospects a personal LinkedIn request to introduce yourself. Keep it friendly and casual - you're just looking to connect!
Once accepted, follow up with a value-packed message catered to how your product or service can solve their pain points. Provide that initial value to start building trust.
Then later, consider a well-crafted cold email that expands on the value you offer. Include a case study, free trial, or content offer to keep engaging them.
This multi-channel approach makes it way more likely prospects will notice and respond. You utilize both LinkedIn and email to create an ongoing, personalized campaign.
So don't write off cold outreach just yet! Combined with LinkedIn relationship-building, you can maximize impact and boost your chances of connecting with future customers.
Automate Prospecting with LinkedIn Prospecting Tool
As your prospecting efforts grow, manually sending connection requests and follow-up messages to each individual can become time-consuming.
This is where Poseidon comes in. Poseidon is a powerful linkedin prospecting tool which makes outreach easier than ever by simplifying prospecting missions and recruiting workflows. It's one of the best use cases of ai for sales prospecting.
To get the best results and save time, consider using linkedin automation tools that send out personalized messages at scale. These tools can help you streamline your outreach process, allowing you to focus on building relationships with your prospects instead of getting caught up in repetitive tasks.
However, it's important to use automation responsibly and ethically. Personalization is still key, even when using automated tools. Make sure to customize your messages and avoid sounding too robotic or generic.
Remember, the goal is to establish a genuine connection with your prospects, so take the time to craft thoughtful and personalized messages.
Conclusion
As you continue to nurture your relationships with potential leads, it's important to keep track of your interactions. Use LinkedIn's built-in features, such as tags and notes, to organize your connections and record any relevant information.
This will help you stay organized and ensure that you're providing a personalized experience to each prospect.
LinkedIn prospecting is not a one-time effort but an ongoing process. It requires consistency, patience, and adaptability. Stay active on the platform, continue to engage with your connections, and refine your approach based on the feedback and insights you gather along the way.